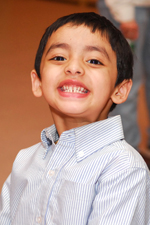 Visits to Yale University by County leaders and educators in 1995 to study the Schools of the 21st Century model led to the creation of Rockland 21C in 1999. Yale 21C's concepts were simple yet revolutionary: children start learning before birth; parents must be involved in their children's education; children need to be nourished in order to learn; care, play and learning must take place in and out of school hours; and all community institutions must support the healthy development of children. An extensive strategic planning process that involved Rockland leaders and community members resulted in 8 strategies and accompanying action plans. The work of action teams led to new afterschool programs, school health assessments, home-visiting, Department of Social Services caseworkers in schools, and more—notably Nyack school district's decision to open Rockland's first school-based Family Resource Center (FRC). After Nyack's popular success, additional districts decided to open their own FRCs, and the number of county residents benefiting from FRC programs grew and grew.
Rockland 21C is a nonprofit with a board comprised of leaders of Rockland government and businesses, public agencies, school districts, and child-centered organizations that are united in a unique partnership with one priority: children. It is also "home base" for an initiative through which eight Rockland County, NY, school districts partner to support forty schools that host program activities.
Rockland 21C brings innovative solutions, resources, best practices and supports to its partners, and promotes an efficient county-wide commitment to children and families.
Every FRC offers a unique blend of programs and services, actively engages families, and increases connections between the school and its community's resources.
Staff:
Rebecca Christner, Administrator
Dorothy Atzl, Project Assistant
Miriam Lachenauer, Home Visitor, Parent-Child Home