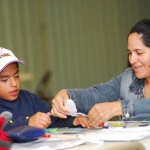 While suburban counties outside New York City are typically known for their wealth, and deservedly so, Rockland County is arguably more like a microcosm of the U.S. than the other counties that ring New York City are, as Rockland contains wealthy communities, typical 'blue-collar' and middle-class developments, and pockets in which increasing numbers of families who struggle with poverty live next door to more and more families like themselves—indeed the percentage of children and youth living in poverty is higher in Rockland than in any other suburban county.
Rockland's schools are likewise bifurcated. Many schools achieve superb graduation rates. All have some number of families that face challenges in connecting to their schools, and vice versa. But the schools that are located in the pockets of concentrated disadvantage face the same struggles that urban schools do, plus challenges that are particular to suburbs, like transportation—and their academic achievement levels are falling. Since poverty still is framed as an urban problem, few funding stream are directed here to provide intensive support. See for instance the "Confronting Suburban Poverty in America" blog at the Metropolitan Policy Project page at the Brookings Institution's website.

Rockland has the highest rate of limited English proficient students outside New York City.
Although disproportionately distributed across the county districts, recent immigrants are found in schools everywhere in the county, especially in the earliest grades.
Thanks in particular to steady investments from Rockland County and its school districts, 21C is proud to have built a strength- and family-based initiative accessed by 177 percent more users than a decade ago. To better support individual school programs and go deeper where mounting needs exist would entail growth of Rockland 21C. Since large and well-funded partners cannot be found in Rockland; school dollars are in ever tighter supply; and many federal funding streams were designed with cities in mind. . . achieving growth is a significant challenge.